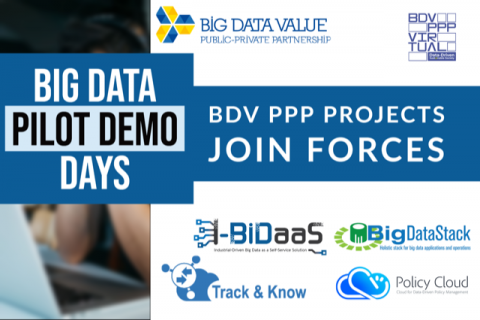 During the virtual BDV PPP Summit 2020 BigDataStack, I-BiDaaS, Track & Know and Policy Cloud joined forces in a series of 9 online demonstrations of innovative Big Data Technologies unlocking the potential of applications in domains spanning from telecommunications, transport, finance, retail, manufacturing 4.0 and health to citizen mobility and policy-making against radicalisation.
The series
The new data-driven industrial revolution highlights the need for big data technologies to unlock the potential in various application domains. To this end, BDV PPP projects I-BiDaaS, BigDataStack, Track & Know and Policy Cloud deliver innovative technologies to address the emerging needs of data operations and applications. To enable data operations and data-intensive applications to fully exploit the sustainability and take full advantage of the developed technologies, the PDV PPP projects brought on board use cases that exhibit their applicability in a wide variety of sectors. This series of webinars showcased the implementation of the Big Data technologies in the pilot studies and their applicability to an ever wider scope contributing to Europe's digital future.
The numbers
Geographical spread
The insights
"The Big Data Pilot Demo Days series has provided BigDataStack with valuable reusable demos that show the added value and working of our technologies even beyond the applications of our pilot use cases. Specifically a project consortium has reused the demo recordings to understand how to adopt and enhance the BigDataStack technologies in their project proposal."
Yosef Moatti (IBM Research, BigDataStack coordinator).
"This series of webinars has brought us closer to our ultimate goal of breaking intra- and inter-domain data silos and data sharing. This would not have been possible without the close collaboration of all Big Data PPP projects."
Sotiris Ioannidis (Associate Professor – Technical University of Crete, Affiliated Researcher - FORTH, I-BiDaaS Project Coordinator).
"The Big Data Pilot Demo Days series has proved to be a very useful tool to showcase the results of the PPP projects. It is a window to discover how big data solutions can help to solve real problems in multiple industries. I congratulate I-BiDaaS for this initiative and encourage the team to continue in that direction." 
Nuria de Lama - European Programs Manager – Atos Research and Innovation, Board of Directors - Big Data Value Association, I-BiDaaS External Advisory Board Member.
The outputs & next steps
A concluding report will be produced on the joint efforts of the ambitious series, the stakeholders engaged and the reusable outputs. The Big Data Pilot Demo Days recordings are a valuable output of the series, to be reused by all interested, to understand how the Big Data Technologies presented can add value to your project and organization.
Curious about how Big Data Technologies could help your organisation save time and costs, predict, take real-time and data-driven decisions?  Watch the recordings and revisit the slides of the 9 webinars:
---
About the projects
BigDataStack a holistic stack of Big Data applications and operations
BigDataStack delivers a complete high-performance stack of technologies addressing the emerging needs of data operations and applications. BigDataStack promotes automation and quality and ensures that the provided data are meaningful, of value, and fit-for-purpose through its Data as a Service offering that addresses the complete data path with approaches for data cleaning, modelling, semantic interoperability, and distributed storage. To enable data operations and data-intensive applications to fully exploit the sustainability of BigDataStack and take full advantage of the developed technologies, the consortium has brought on board three use cases that will exhibit their applicability through Smart Insurance, Connected Consumer and Real-Time Shipping.
I-BiDaaS - Industrial-Driven Big Data as a Self-Service Solution
I-BiDaaS aims to empower users to easily utilize and interact with big data technologies, by designing, building, and demonstrating, a unified framework that: significantly increases the speed of data analysis while coping with the rate of data asset growth, and facilitates cross-domain data-flow towards a thriving data-driven EU economy. I-BiDaaS is being tangibly validated by real-word, industry-lead experiments in the domains of banking, manufacturing, and telecommunication.
Policy Cloud for data-driven policy management
Over a three-year period to December 2023, the Policy Cloud project will improve policy making for public administrations across Europe by harnessing the potential of digitisation, big data and cloud technologies to support transparent, democratic, and evidence-based decision making around the creation and implementation of social and economic policy. Specifically, the project will deliver a unique, integrated environment of curated datasets and data management, manipulation, and analysis tools which will be applied to the full lifecycle of policy management in four thematically distinct pilot use cases. These datasets and tools will eventually become accessible to the public from the European Open Science Cloud (EOSC).
Track and Know
The project has developed a software framework and demonstrated increased efficiency of Big Data applications. The project has developed a scalable, fault tolerant platform to manage big data coming from a variety of sources and has created efficient, interoperable and scalable toolboxes integrated into a Track and Know software platform. The 'Big Data Processing', 'Big Data Analytics', 'Complex Event Recognition' and 'Visual Analytics' toolboxes were successfully applied to mobility data from three domains area, fleet management, motor insurance and health sectors and delivered insights and efficiency improvements in the target domains.