Succeeding in open-source
There are several factors of success for merging open source contributions upstream in the broader opensource context. These range from a strategic to an operational level; from
identifying an exploitable gap
through thorough gap analysis to
the open brainstorm discussions
about the proposal to a
quality and evaluation assessment
of the source code. 
The process leading to the public release of a software artefact is not seamless and constant feedback is needed to achieve a remarkable result in terms of the exploitability of the produced software. The most straightforward method to achieve such a result is, without any doubt, discussing the software with leading figures in the field of Open Source.
Whether you are a software engineer, a researcher in academia or working in the industry, letting you being part of a critical discussion revolving around your artefact will foster your development and validate your idea, leading to innovation.
Through the European Open Source Initiative, we'll identify the most relevant community for your component, and we put you in contact with them. The community will review your code, testing and validating your work and fostering further development.
Who can apply?
The initiative is intended for industrial or academic institutions, EU-funded projects and individuals who are going through the process of development for new open-source artefacts or projects, open standards and open-source initiatives.
The European Open Source Initiative is open to the complete research community, welcoming participation from EU-funded projects, industrial and academic institutions, and individual contributors. Collaboration with the (global) Open Source Initiative, the Big Data Value Association as well as initiatives in the CNCF will be pursued to foster the openness of the European Open Source Initiative to entities and contributors in the global open-source context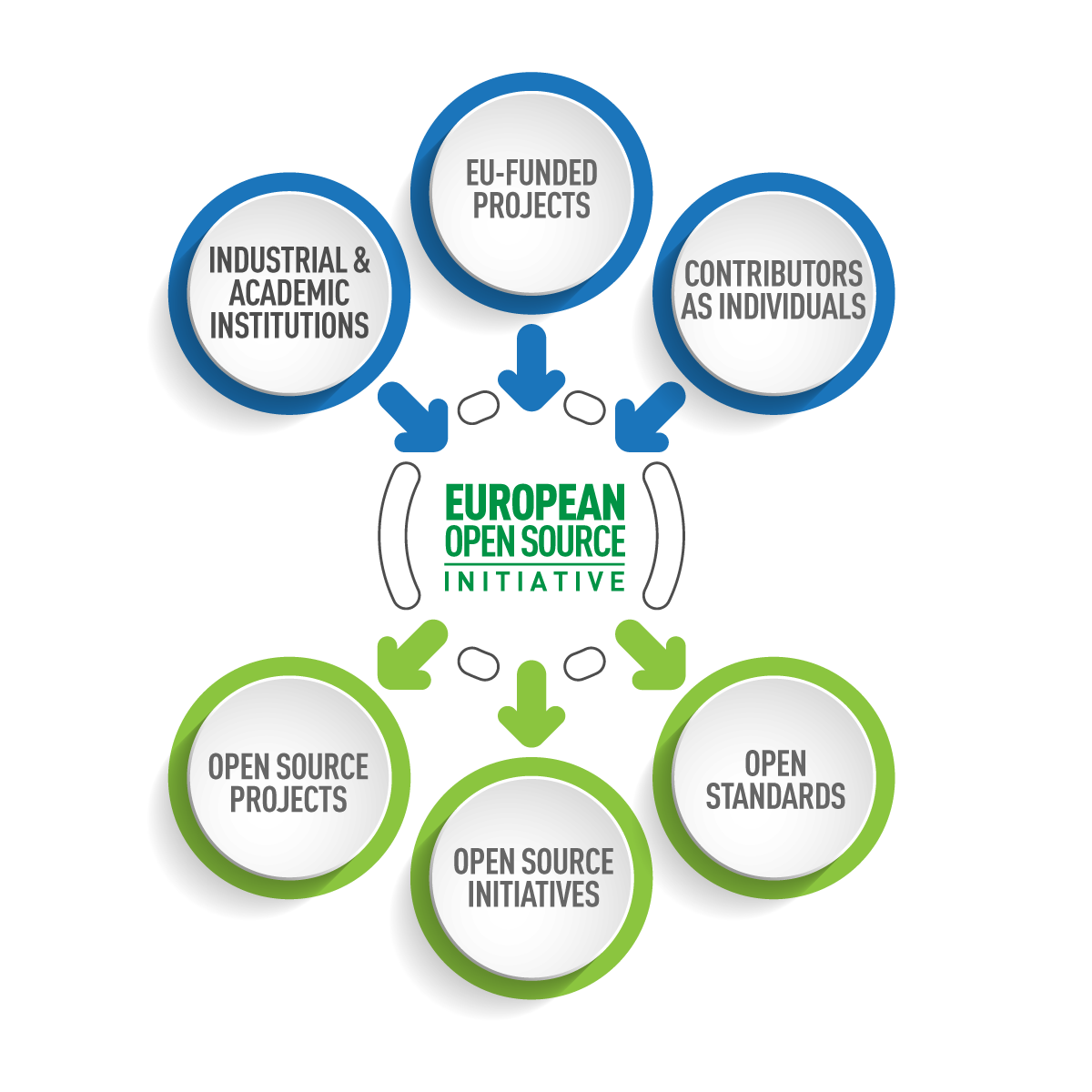 Are you interested in taking part in the European Open Source Initiative?
Targets and success stories 
The initially identified targets of the European Open Source Initiative and the goals achieved are linked below: 
Contributions in Open Source Projects (e.g. Linux, KVM, Libvirt, OpenShift, Apache Spark, etc.), 
Participation in Open Source Initiatives and events (e.g. Apache Software Foundation, RedHat Research Day, the Document Foundation, the Linux Foundation, FIWARE Foundation, etc.)
Liaisons with Standardisation bodies and projects (e.g. ETSI, OASIS, NIST, StandICT etc.).