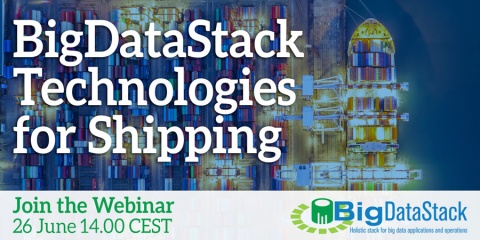 3 June 2019
"From Danaos Shipping point of view, BigDataStack sets the foundation for the development of platforms that handle and manage big-data applications. The resource allocation and deployment problem of a big-data application is something that requires engineers with expertise on new technologies along with domain knowledge. BigDataStack tries to assist these people to integrate their business knowledge/application/algorithms in one platform. Thus, it is expected that further versions or ideas of this project will enhance this approach."
Stathis Plitsos - Head of Development DeepSea Technologies - DANAOS
BigDataStack Webinar Series on Industry Use-Cases
BigDataStack is organising a series of three webinars for end-users to learn more about the Technologies developed within the project and put to practice in the three use cases. The organisations using the BigDataStack technologies in these use-cases will explain how they are using these technologies and how they will improve the end-users life. BigDataStack technology providers will explain the technologies used in more detail and answer any questions you may have about using these technologies in your own organisation.  
About the BigDataStack Technologies for Shipping Webinar
The BigDataStack algorithms will optimize and help cut costs on maintenance and spare parts inventory planning and dynamic routing. These predictions will be estimated and provided to DANAOS, a leading international maritime player with more than 60 container ships.
The webinar focuses on the added value of BigDataStack technologies for shipping:
Performing predictive analytics on top of both streaming and stored/historical data as key for the optimization of all processes.

The underlying infrastructure system will allow for larger datasets to be exploited towards more accurate predictions, while the CEP approach over cross-streams and federated environments (given that different data are obtained by different sources) will enable the combination and consideration of additional aspects (e.g. inventory locations), which is not feasible today.

Moreover, the overall maintenance process will be modelled through the Process Modelling framework and process mining techniques will provide insights regarding points of optimization or potential bottlenecks.
Speakers
Dimosthenis Kyriazis

Technical Coordinator of the BigdataStack project and Assistant Professor at University of Piraeus (Department of Digital Systems), will give an overview of the project and architecture of BigDataStack.

 

Stathis Plitsos

Head of Development DeepSea Technologies - DANAOS will present the Danaos Shipping Use-Case and show how BigDataStack Technologies optimize and help cut costs on maintenance and spare parts inventory planning and dynamic routing.

 

Yosef Moatti

Data Services lead and Administrative coordinator of the BigDataStack.  Researcher at the Haifa IBM Research Labs,  will discuss the Data Services of BigDataStack used  for the BigDataStack shipping use-case.

 
Who should attend the webinar?
Are you working in the Shipping industry? Do you have a management, technical or IT related role in a Large company or an SME,  interested in implementing BigDatatechnologies to improve shipping? Are you interested in optimizing and cutting costs on maintenance and spare parts inventory planning and dynamic routing?
---
Have you missed the webinar?
Engagement Poll - results

We've asked our attendees the following questions:

About BigDataStack
A High-Performing Data-Centric Stack for Big Data Applications and Operations.
BigDataStack is a unique high-powered stack of solutions with a focus on providing fully efficient and optimised processes across the complete set of technologies required by data operations and data-intensive applications. More information here: https://bigdatastack.eu
Missed our first webinar on Connected Consumer BigDataStack Technologies for Retailers?
We published the slides and the recordings