Image: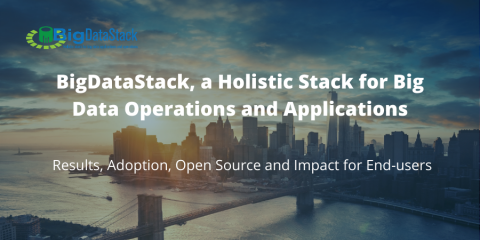 Results, Adoption, Open Source and Impact for End-users Summary Report out Now!
After 3 years of research and innovation,  the BigDataStack consortium proudly delivered its complete infrastructure management system, which bases the management and deployment decisions on data from current and past application and infrastructure deployments. This complete infrastructure management system is delivered as a full"stack" that facilitates the needs of operation data and application.
"BigDataStack delivers a complete pioneering stack, based on a frontrunner infrastructure management system that drives decisions according to data aspects, thus being fully scalable, runtime adaptable and high-performant to address the emerging needs of big data operations and data-intensive applications." Dimosthenis Kyriazis / Technical Coordinator (University of Piraeus)
To enable data operations and data-intensive applications to fully exploit the sustainability of BigDataStack and take full advantage of the developed technologies, the consortium onboarded three use cases that exhibited the applicability.
The BigDataStack Software Component Catalogue
The BigDataStack project published all software components, Open Source and proprietary, in its online catalogue. The catalogue provides you with downloadable factsheets, for each of the components, with information on its license and access to the code on GitHub for the Open Source components.  As the consortium is so very proud of each of its components and wants to make sure you don't miss out on them for your own work on Big Data analytics. Partners have prepared a series of videos on the BigDataStack components. You can watch them all here. 
Data is amongst the most valuable products nowadays, its exploitation for industry will twist the market over the next few years. BigDataStack defined its adoption roadmap, for organisations interested in implementing the full BigDataStack or its individual components, as developed in its exploitation plan. BigDataStack offers a perfect solution for Industry, handling real-time analytics on big data in flight and at rest, across multiple data stores and from several sources.  Here we provide a summary of the main results of BigDataStack, after three year of research, adoption and team building among the fourteen public and private partners of the consortium.   
The consortium produced a summary report of BigDataStack, to showcase its results, added value and impact for end-users, fostering uptake. The report can be downloaded here.