Image: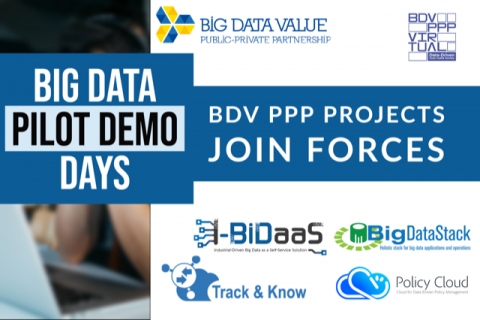 Hosted by BDV PPP. BigDataStack, I-BiDaaS, Track & Know and Policy Cloud join forces in a series of online demonstrations of innovative Big Data Technologies unlocking the potential of various applications.
The new data-driven industrial revolution highlights the need for big data technologies to unlock the potential in various application domains. To this end, BDV PPP projects I-BiDaaS, BigDataStack, Track & Know and Policy Cloud deliver innovative technologies to address the emerging needs of data operations and applications. To enable data operations and data-intensive applications to fully exploit the sustainability and take full advantage of the developed technologies, the PDV PPP projects brought on board use cases that exhibit their applicability in a wide variety of sectors. This series of webinars aims at showcasing the implementation of the Big Data technologies in the pilot studies and their applicability to an ever wider scope. The webinars will demonstrate the actual solutions implemented performing big data operations and applications to interested end-users from industry as well as technology providers for further adoption in their own solutions and projects. The projects will jointly illustrate how they contribute to Europe's digital future. 
Joining efforts
I-BiDaaS, BigDataStack, Track & Know will kick off this series of online demos for industry end-users and technology providers interested in further uptake of the innovative technologies developed. The recently started Policy Cloud project will highlight the adoption of technologies developed by the more mature BDV PPP project BigDataStack, showcasing its application for the policy making sector. The series is open to other BDV PPP projects to join with virtual demonstrations of their pilot projects.
Full series can be consulted here: https://bigdatastack.eu/news/big-data-pilot-demo-days-bdv-ppp-virtual-summit-2020