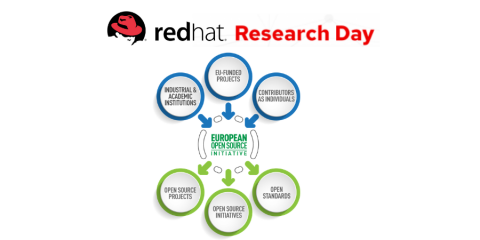 The European Open Source Initiative is open to the complete research community, welcoming participation from EU-funded projects, industrial and academic institutions, and individual contributors. Collaboration with the (global) Open Source Initiative, the Big Data Value Association as well as initiatives in the CNCF will be pursued to foster the openness of the European Open Source Initiative to entities and contributors in the global open-source context. In this context BigDataStack contributes to guiding industrial or academic institutions, EU-funded projects and individuals who are going through the process of development for new open-source artefacts or projects, open standards and open-source initiatives.
RedHat Research Days
Red Hat is one of the leading companies as regards to Open Source activities, being worldwide recognised for its contributions to Open Source Communities as well as open culture. In order to increase the impact that BigDataStack contributions can make, as well as to foster Open Source contributions from research projects, Red Hat started to organise the Red Hat Research Day as part of its research activities. The Research Day is a one-day event dedicated to Red Hat's research initiatives that aims to be a showcase for the research Red Hat supports at various universities and research institutions worldwide.
The main goal of the event is to bring together international researchers, Red Hat engineers, industry representatives, customers, partners, and other interested people to share knowledge about the latest research findings, network with research enthusiasts from around the world and learn about moving great research ideas into open source communities.
RedHat Research Day First Edition was part of the Red Hat Summit 2019  in Boston, US and addressed "Bridging Between Research and Upstream Engineering[3]". The day kicked off talks focusing on different data processing topics, such as machine learning, Multi-Party Computing and Homomorphic Encryption. Including a talk given by Dimosthenis Kyriazis about the Big Data Stack projects "An Architecture Slack for Data-Driven Infrastructure Management". The second half of the day was dedicated to the infrastructure side and exploration of different tools and techniques to improve the way data can be processed, such as adding FPGAs, UniKernels, OS accelerators, etc.

RedHat Research Day Second Edition was collocated with the Brno DevConf event. It brought together an audience of about 130 invited participants from academia, Red Hat customers, Red Hat partners, and also companies interested in research and cooperation with universities to exchange ideas, share their experiences, achievements and common passion for open source research. The main topics were focused on current research projects such as encryption, crypto-algorithms, new forms of attacks, and work on automation of formal code verification.

RedHat Research Day Third Edition has been organised in a slightly different format due to the COVID impact. This time it spawned among 4 different days in September, fully virtual, and with the focus on a mix of discussions and presentations with focus on how to improve privacy and security, make experimentation and system execution more reproducible, and enhance the performance of cloud systems. Recordings and digital illustrations are available for reuse. 

Find out more about the European Open Source Initiative at BigDataStack here.
Join the next RedHat Research Day here.