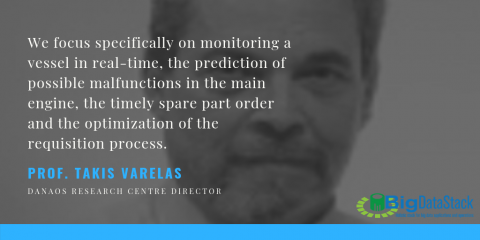 Interview with Prof. Takis Varelas, Danaos Research Centre director
What innovative aspects is Danaos bringing to BigDataStack?
Danaos manages one of the largest independently owned fleet of modern, large-size containerships. Our dedication to innovation, safety, efficiency and environmental responsibility has helped us forge our reputation as the leading provider of containership management services in the world. Further proof that Danaos views technological leadership as going hand-in-glove with operational quality is that it is among a very small band of shipping companies that has regularly participated in bona fide maritime research, notably a string of European Union-funded projects since the 1990s and has been in more than 30 projects.
What is Danaos' Role in the BigdataStack project?
Our role in BigDataStack is to lead one of the 3 use cases of the project. That is, Real-time ship management. We focus specifically on monitoring a vessel in real-time, the prediction of possible malfunctions in the main engine, the timely spare part order and the optimization of the requisition process.
What is the added value of BigDataStack for the shipping industry? 
Indeed, Danaos offers the shipping domain knowledge along with all means to assist the provability of BigDataStack for this domain. This includes software and personnel experience as well. Furthermore, regarding the preventive maintenance algorithms, Danaos  has a large dataset of main engine and vessel data sourcing from sensors on-board on a per-minute-basis. Additionally, mechanical and naval engineers working in Danaos may provide appropriate experience on the main engine damages for which preventive maintenance should be performed.
The challenges to be met in this field are strictly connected to the needs of ship management, such as:
Monitoring the main engine of a vessel.

Identification of malfunction patterns and notification of the supply department.

Automatic ordering of  the appropriate spare part to be delivered at a port on route (upon confirmation).

Minimization of overall maintenance cost.

Avoidance of off-hire seasons due to machinery failures and unexpected but compulsory maintenance.
Focusing on these challenges, BigDataStack will allow:
Advanced monitoring of key components in the engine room and at office.

Better organisation of the supply department.

Minimization of machinery failures that cause the ship to go off-hire.

Reduction of operating costs, by optimising the requisition process of new spare parts.
How do you think BigDataStack may shape the future European supported research & development?
We believe that BigDataStack, as a platform for big data platforms, will pave the way for european projects on the big data research area. Indeed, we expect that its contribution will be of significant importance.
About Prof. Takis Varelas 
Prof. Takis Varelas is acting as Danaos Research Centre director since 2004. He majored in Chemistry Data Metrics and Management Science. Takis is a scientific coordinator of 30+ european research projects and a Franz-Edelman award winner and laureate of the homonymous academy. He spent more than thirty years in managerial positions in maritime and information worldwide dominant enterprises. He spent also 10+ years as Professor in the Technical University of Crete.
Join the BigDataStack Technologies for Shipping