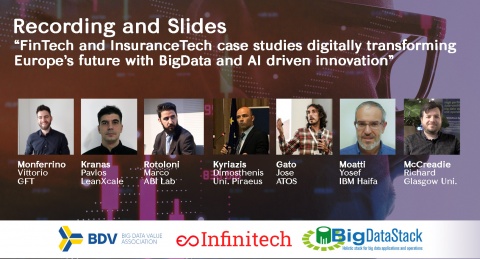 The new data-driven industrial revolution highlights the need for big data technologies to unlock the potential in various application domains. The insurance and finance services industry are rapidly transformed by data-intensive operations and applications. FinTech and InsuranceTech combine very large datasets from legacy banking systems with other data sources such as financial markets data, regulatory datasets, real-time retail transactions and more, improving financial services and activities for customers. 
Real-life challenges setting the requirements for BigData solutions
INFINITECH, BigDataStack and the BDVA Task Force on BigData and AI for Finance joined forces in a two-hour webinar on data-driven innovation contributing to Europe's digital future in Insurance and Finance. The webinar illustrated the need for digital transformation by defining the requirements of INFINITECH use cases in the financial and insurance service sector. The solutions provided by BigData, Internet of Things and Artificial Intelligence-driven technologies, developed in the BigDataStack and INFINITECH projects were showcased.
Webinar insights
Geographical attendance
Results of the webinar poll
Watch the webinar recordings and reuse the slides
Time
Topic
Speaker
14.00 - 14.05
Setting the scene
Marieke Willems - Trust-IT Services
14.05 - 14.10
INFINITECH, a joint effort of global leaders in ICT finance and insurance.
Vittorio Monferrino - GFT
14.10 - 14.20
INFINITECH architecture lowering the barriers for BigData/IoT/AI driven innovation, boosting regulatory compliance and stimulating additional investments.
Pavlos Kranas - LeanXcale
14.20 - 14.25
BigDataStack architecture promotes automation and quality, ensuring data is meaningful and fit-for- purpose through its Data as a Service offering.
Dimosthenis Kyriazis - UPRC
14.25 - 14.40
INFINITECH Use Cases, real-life challenges setting the requirements for BigData, AI and IoT innovative solutions.
Jose Gato - ATOS
14.40 - 15.10
BigDataStack technologies fit to tackle FinTech and InsuranceTech challenges

Data Skipping
Seamless analytics
Automated Deployment

Yosef Moatti - IBM Haifa
Pavlos Kranas - LXC
Richard McCreadie - University of Glasgow

15.10 - 15.20
FinTech and InuranceTech transforming Europe's digital future through off-the-shelf solutions provided by INFINITECH and BigDataStack BDV PPP projects.
Marco Rotoloni - ABI Lab - BDVA Taskforce on BigData AI for Finance.
15.20 - 15.50
Q&A Session